Dr. Narendra Akhadkar
Schneider Electric
Dr. Narendra Akhadkar
Dr. Narendra Akhadkar, Group Senior Expert and Innovation Leader at Schneider Electric's Digital Engineering department. Holder of a doctoral degree in Multibody Dynamics with more than 20 years of experience. He is certified lean six sigma and reliability back belt professional. He has published several research articles and authored patents. He is a member of different scientific organizations. Currently leading Model Based Engineering, Robust and Reliable Design, Augmented Reality, Virtual Reality, Artificial Intelligence, and research projects for innovation.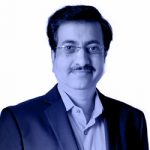 MBD in Action: Schneider Electric Use of MBD for Design and Quality
With constantly evolving customer demands, developing a high-quality product will require more agility in the product development process. In this presentation will demonstrate Schneider Electric's approach to the use cases of MBD as we connect the digital thread across the product lifecycle in engineering, manufacturing, quality, supply chain, and more.  Model Based Engineering will enable 3D digital experience with seamless real-time data management. It results in faster decision process, time to value, and enhanced analytics throughput.